Prizes will be awarded at the end of the race for the following categories
Prizes for runners | Men and Women

Bonuses will be awarded for record breaking results
1,500$ bonus for record breaking results for men and women
Record time for men – 2:16:08 hours, set by Ronald Kimeli Kurgat from Kenya in 2014
Record time for women – 2:38:24 hours, set by Joan Jepchirchir Kigen from Kenya in 2016
Additional 3,500$ bonus for high-quality results
Men – 2:15:29 hours; Women – 2:36:59 hours (both approximately 1070 points according to the international marathon association quality table)
Bonuses will be awarded to the marathon winner only
Prizes for Israeli Marathon runners – Men and Women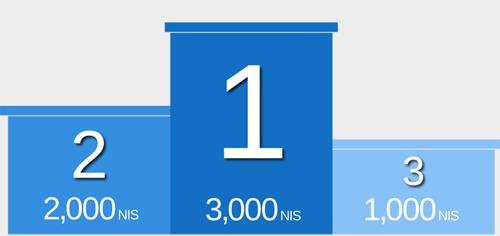 Israeli marathon runners that win prizes for international achievements as well will receive the higher of the two awards, not both. The sum of money that the winning runner does not receive will be given to the runner-up Israeli marathon winners, as determined by the organizers.
At the end of the race, trophies and prizes will be awarded to runners in places 1-3 in the marathon and places 1-3 for Israeli runners in the marathon, half-marathon, 10-km race and competitive 5-km race, for men and women.
Trophies and prizes for special categories will be awarded in a separate ceremony.
*Israeli winners with an Israeli identity card
Hours Distribution of Prizes to Winners (General) by Age Categories
Details of the distribution of trophies to the winners (general) according to age categories - will be held at a separate event after the marathon (details will be published later)

Details subject to change E&OE