06:00
The Morning of the Race - Sacher Park
The staging area in Sacher Park is within walking distance of the parking lots (follow signs and directions).
Service booths and race services will open at 06:00 am
Enter the parking lots through the entrance specified on the parking voucher in the runner's kit.
Parking for the disabled – on the marathon day parking for the disabled will be available at the Berlin Center and the Israel Museum parking lots (only upon presenting a disability parking permit).
Please note: firearms are not allowed on the Sachar Garden premises.
-Starting Line and Start Area
The starting line and start area are identical for all the races: at the intersection of Derech Rupin and Kaplan, on the southern side of the Knesset building.
It may take about 10 minutes to get from the staging area to the start area during congestion. Please plan your time accordingly.
Measurement of personal time only begins when you cross the starting line.
*You can leave outerwear at the starting line – all garments will be donated to charity.
:The following services will be provided in the start area
A medal engraving booth will be available on-site for runners. The engraving service will engrave the runner's name and finish time on the medal for only NIS 30.
You can also order a medal with a personal engraving after the marathon day.
Please contact: 03-6828889
Bib Numbers and Assignment to Starting Gates
Runners must arrive at the start area according to the following start times to enable an efficient and timely start.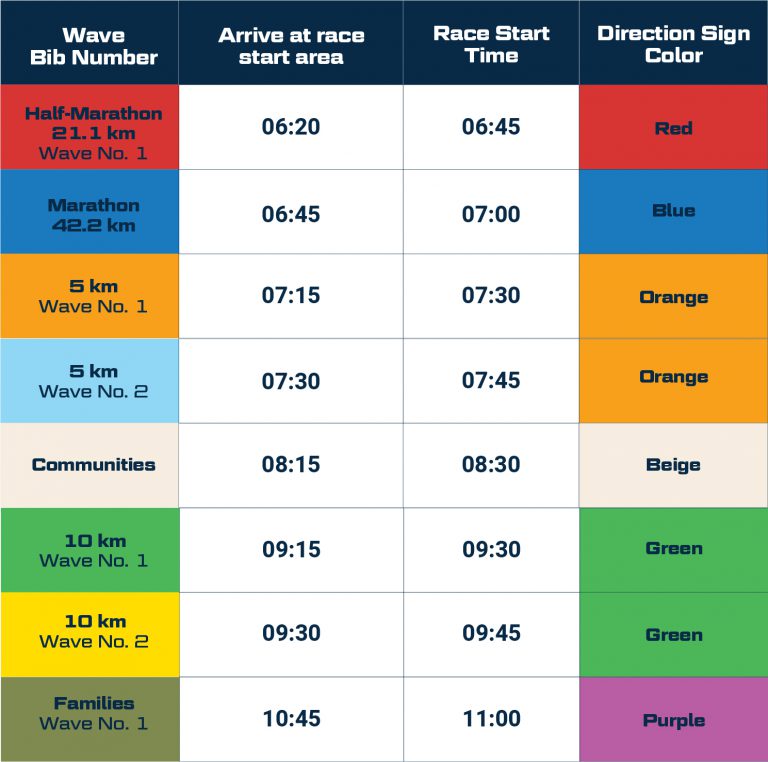 | | | | |
| --- | --- | --- | --- |
| Wave Bib Number | Arrive at race start area | Race Start Time | Direction Sign Color |
| Half marathon- 21.1km Wave No.1 | 6:20 | 6:45 | Red |
| Marathon- 42.2km | 6:45 | 7:00 | Blue |
| 5km- Wave no. 1 | 7:15 | 7:30 | Orenge |
| 5km- Wave no. 2 | 7:30 | 7:45 | Orenge |
| Communities | 8:15 | 8:30 | Beige |
| 10km- Wave No.1 | 19:15 | 9:30 | Green |
| 10km- Wave No.2 | 9:30 | 9:45 | Green |
| Families- Wave No. 1 | 10:45 | 11:00 | Purple |